It's not often that I get down to writing a race report for a foot rogaine, the last ones being the Diaper Creek Rogaine and 24 Hour Rogaine champs way back in 2014. A big part of the reason for this is that's been almost 2.5 years since I've done a pure bush foot rogaine! Between Covid, organising races and competing in the Adventure 1 national series and other AR events over the last few years, it's been a while between outings.  But the recent 6 hour foot rogaine hosted out of Girraween National Park was particularly noteworthy and I thought it worth capturing a few thoughts about the event.
Firstly, for context, the race attracted almost 290 competitors across the 3 hour and 6 hour events. This makes it the one of the largest participated rogaines in south east Queensland that I'm aware of – certainly the largest I've raced in. If you had told me that a 6 hour rogaine that was more than 3 hours drive from Brisbane could attract those sort of numbers, I wouldn't have believed you. But the general feedback was two-fold. Firstly, I think people were itching to get racing after a long hiatus between events due to Covid-19 restrictions.  But by far and away a larger factor was the draw card of the location.
Girraween National Park is an amazing piece of geography – the crown of the granite belt with some amazing rock features scattered throughout. It was actually the start location of the Raid 100 course back in 2019. Given that I had a working relationship with the rangers at the time and familiar with the permit process required for an event out there, and given that the area had been largely burnt out by bushfires at the end of 2018 and would in theory offer much more open undercarriage for cross country travel, I suggested it as a location for a dedicated larger foot rogaine this year.  Peter Blyton and his small team duly took on the challenge, and despite some butting of heads on HQ access and night travel, they delivered a fantastic event.
Now, given that Girraween hosted the start location of the Raid 100, you would have thought I was pretty familiar with the area.  However, in my organising efforts for that race, I never made it any further than the carpark outside the ranger's office.  All of the course setting and hanging for that first stage was done by Adam Power. I had fantastic memories of camping at Girraween as a kid, but hadn't stepped onto the trails in over 30 years. Hence, I was keen to spend some time out there and hike through the area with my own family before the race. We had scored a nice cabin at the Environmental Lodge and was over the moon to later learn that this location would also double as race HQ.
Turning to the race, I was again partnering up Leo Theoharis. I was pretty keen to get some runs on the board this race after falling short at the recent 6 hour Wildfire Raid and 8 hour rogaine. Leo's one of my favourite people to race with but it's been a while since we'd done much racing together, so it felt like we were still finding our racing groove. Maps were handed out and the course setters had set a tough strategic challenge. The course was certainly not going to get swept! The big factor that weighed into our course planning process was the sole water point on the farthest point of the map. Both Leo and I are not fans of the heat and thought it critical we hit that water point.  As such we planned a course that would see us reach that water stop at about the 3 hour mark. To be honest, I don't think the route we selected would have been my first option if water wasn't a consideration, but I thought it was still a sound plan that could land a competitive result if we executed it well.
A high resolution map of the race can be downloaded here. This is an overlay of our GPS route from the event: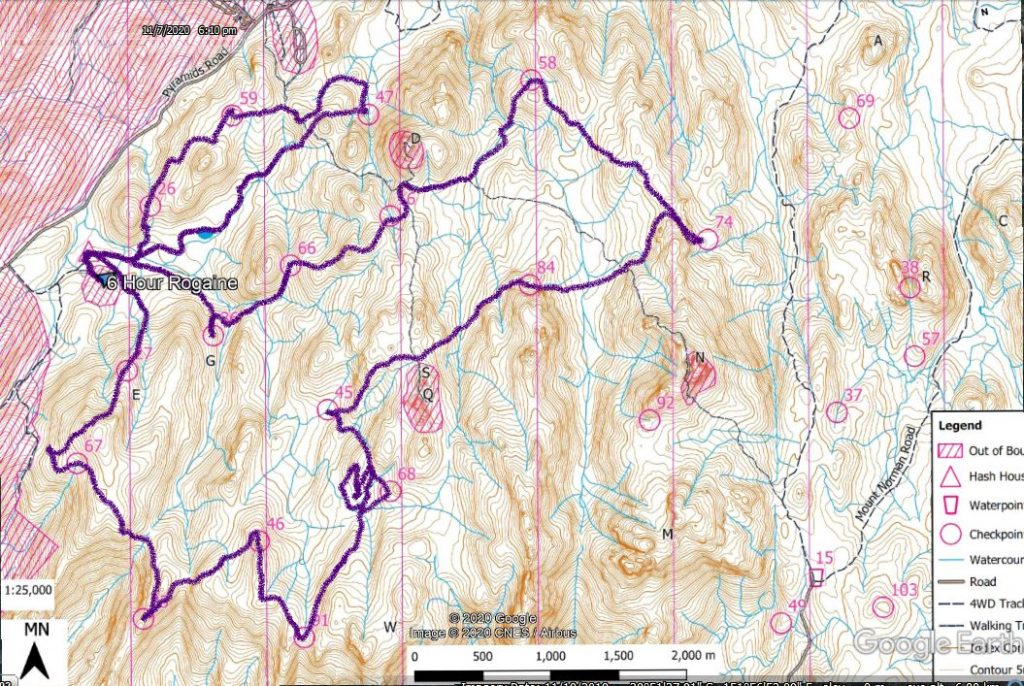 Setting off, I was glad to see the bulk of the field were headed for check points 66/36 first which was in keeping with what I thought would be the most efficient route.  But in an attempt to make the water point as early as possible before working our way back, we headed straight to CP 27 which meant we were instantly out on our own as I prefer to be.  Things were going well early – we were navigating fine and moving really well together through the rough, rocky terrain.  The location was spectacular – every spur was littered with building sized boulders only to occasionally break out onto these massive granite slabs. Our approach to check point 67 was a little off, finding it easier to identify the gullies when approaching from below given the amount of rock up high obscuring the ridges and watercourse heads. The rock slabs around CP 91 were fantastic.  Indeed, with the amount of rock, we found that travel was relatively consistent regardless if you were on the ridges, side hilling or tracking the watercourses.
Things were going well through the first hour when the wheels of our plan completely fell off on route to CP 68 from CP 91.  We were taking a straight line approach to minimize the amount of climbing and having a good chat about our plans to race XPD next year. At one point Leo said, "I think this is our creek".  I stopped on the spot, looked down at the map and had an "Oh Sh!t" moment.  I'd been so caught up chatting that I'd completely forgot we were racing or even that we were meant to be navigating.  I had literally paid no attention to the map, compass, our travel or what we were meant to be looking for – I had no idea of where we were on the map.  In the end we made a parallel error on the wrong spur.  With so much rock you really needed to check each knoll thoroughly as the control could literally be just around the corner and you wouldn't spot it if you weren't in the right location. After we finally relocated down to the watercourse and worked out where we were from the watercourse directions, we had lost almost 25 minutes by the time we picked up the control.
With a promise to each other to pay a bit more attention going forward we knew our original plan was going to have to get thrown aside and come up with a new strategy. Reluctantly we decided to drop the water stop along with the big control points nearby and we grabbed a litre of water each from the creek between CP 45 and 84.  From CP 84 we thought pushing on to CP 92 as originally planned might cost too much time and we would be better off collecting CP 74 with the option of grabbing more of the controls around the HQ all going well.  With the new plan, I was really regretting that we hadn't collected CPs 36 and 66 at the start of the race, as those controls were now dictating our route home.  As it turned out, we were moving so quickly through the rest of the course that we found ourselves back past HQ and back out to CP 59 with 50 minutes to spare.
While it was tempting to head back to HQ with our tail between the legs, with so much time up our sleeves we decided to push on for CP 47 giving ourselves a hard cut off for when it would be worth turning back for the long run home.  We rushed our approach to CP47, but managed to correct to the right water course and pick it up on the climb out. We then had less than 30 minutes to make it back from below Castle Rock all the way back to the environmental lodge.  We managed to do so with just over 3 minutes to spare, but notably less than 30 seconds after another team on the same score. All told we only picked up 40 points in the last 50 minutes of the race: not a very efficient way to do it.
Ultimately we managed to sneak in for fifth place, a result I was happy with given the route we had taken. There were plenty of tales of navigational woe and it seems that the winning team of Craig and co had the best of it with a winning strategy and good navigation (which, unsurprisingly, is what it takes to do well in these events).  If I had to summarise our day out, I felt like that I had a ton of fun.  We moved really well in the rough terrain and felt pretty solid physically – the much cooler temperatures on the day help with this.  We were generally all over the navigation when we were focused, but too much chatting opened up lapses in concentration resulting in one big mistake and a couple of less optimal approaches.  But the biggest killer was our strategy. Our original plan wasn't great and every time we changed the plan it went from bad to worse. A good reminder that executing a poor plan is just as bad as poorly executing a good plan.
All told, the race was fantastic. It was great to have the family out there and roasting marshmallows around the communal camp fire afterwards. It will be great to get back to the point where we can have catering and a more communal vibe at the hash house which can't really happen in the current "Covid normal" times. I'd be a big advocate for another rogaine returning to Griraween sooner rather than later. Such spectacular terrain with so much off-trail travel and rock features. If there was another race there this weekend I'd be back in an instant. There's certainly much more scope for a course to explore the area.  And ultimately, how lucky are we to have the chance to race an event like this at the moment – a big thank you to all involved.