There were times this year I didn't think I would even really have an opportunity to write a yearly race wrap up.  Looking back to the start of 2020, we had lofty goals of a big race calendar planned with some fantastic events lined up.  I recall being pretty excited because it was a super neat calendar – I could focus on setting and running the Rogue Raid in early May before throwing myself into a dedicated racing and training block with 3 of the 5 other Adventure1 races, sprinkle in some of the QLD rogaines, add a touch of Hells Bells and serve it all up at GODzone in November.
Of course, best laid plans were blown out of the water when the reality of Covid hit. It's almost cliché now to say that we have been so lucky up here in QLD to still be able squeeze some racing in, so while I still didn't get the chance to run through the bush with the McLachlans and the Delaneys (who are based in Port Macquarie), at least I was still lucky enough to get out for some local events in the second half of the year with some great team mates.
The racing season started in winning form in August with Thor and myself taking out the postponed Max Adventure Sprint race up at Wildhorse Mountain for the third time in a row. We were having a fantastic race until a moment of lost concentration had me skipping the second last control on the way to the last check point, all compounded by a bad choice of track on our route. Fortunately we picked up the mistake in time to recover and had built enough of a lead that we still managed a comfortable win.
Later in August I was finally able to run the Rogue Raid 24 hour race. Given the uncertainty at the time, it was a relief to be able to run the race after all the organisation and ground work put in, even though it was to a reduced field made up of only Queenslanders. The title was taken out by team Tri Adventure Thunderbolt. As one of only three 24hr adventure races to go ahead in Australia in 2020, team Thunderbolt were possibly the most successful team this year having taken out the Terra Nova race in March, although with a completely different team line up.
In September, team Rogue (Sloshy and Liam) joined forces with the Tri Adventure ladies Kim and Ali to take out the Hells Bells 24 hour race over a quick course based out of Rainbow Beach. This was the twelfth time I've raced Hells Bells, and it maintains a perfect record of wins racing with Kim (2 from 2). Hells Bells reiterated my philosophy of racing with friends for the enjoyment of the experience as much as the competition, however with the win came with the added bonus of qualifying an entry for the inaugural Oceania Champs event.
After the first three Queensland adventure races for the year, it was time to turn towards a few rogaines in September through to November.  I raced all of these with Leo Theoharis who I hadn't done a race with in over four or five years.  These included the 6 hour Wildfire Raid at Lake Manchester, the 8 hour rogaine at Yarabilby (also along with Sloshy) and the 6 hour rogaine at Giraween.  All were fantastic races and a ton of fun, but we never hit our full stride at any of the races. The Wildfire Raid has been one of the top races I've competed in for the last two years.  We fell just short in second place after the wheels fell off in the closing stages of the race due to the heat.  It was a repeat story of heat taking its toll at the 8 hour rogaine, however it was my turn this time to be on the receiving end of the pain.  The 6 hour rogaine at Giraween was a pure racing highlight for the year – you can read all about our day out here.  Despite some less than competitive results on the back end of the year, Leo did enough to secure top place in the QLD Rogainer of the Year standings for 2020.
Looking Ahead to 2021
Many of us will no doubt be glad to tick off 2020. The team have already had discussions about our racing plans for 2021 and it looks like we'll be making up for lost time with a jam packed year ahead.
Racing will kick off with the Max Adventure Sprint race (Thor and Liam) in March. The race heads away from the Sunshine Coast to Enoggera Dam for the first time ever in March and will be a good chance to blow off the cob webs as we attempt to defend our title. This is the month where we'll also be wistfully cheering on those teams racing over at GODZone with their first ever North Island course based out of Rotorua.
In April, the Adventure 1 series will kick off with the Explore Gippsland 36 hour race (Chris, Michelle, Liam and +1) down in Victoria.  As an inaugural race, I'm really excited about the possibilities for this event and it will be great to see what race director Rob Preston pulls together. Rumours have it that the race will incorporate packrafting, so it will be great to put our new Frontier packrafts to good use. The Rogue team are targeting the Adventure1 series next year, so with all of the logistics of getting the team from QLD and NSW to VIC, it would be great to kick it off with a solid performance.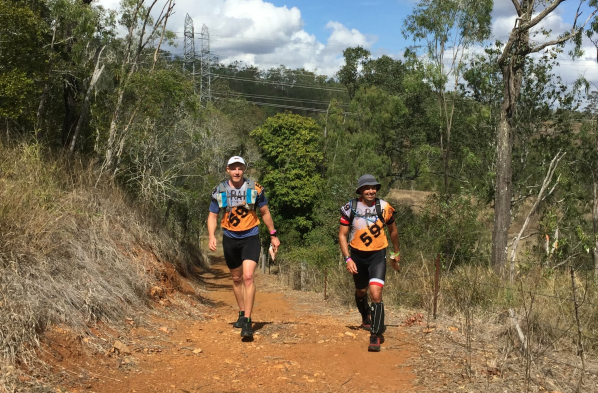 The weekend after Explore Gippsland, I'll be backing up with the Wildfire Raid 6 hour race (Leo and Liam).  The Wildfire Raid will be a member of the Adventure 2 state series next year.  While I've set a number of events out of Wivenhoe Dam, I've never had the chance to race in the area so I'm particularly looking forward to this course as well.  Race director Adam Power has mastered the Raid format so the added element of strategy is a unique challenge.
In May, the Rogue Raid 24 hour race will return for its twelfth edition. The course heads to the familiar surrounds of Wyaralong Dam, however this is the first time a 24 hour race has been hosted out of the location and I've managed to secure a large amount of private land to explore for the first time. As the second race in the Adventure 1 series, the Rogue team will also be represented (Chris, Michelle, Dan and Ali) chasing those vital series points. This particular team line up has a wealth of experience now at the Rogue Raid and it will be great to see them back at the race .
Later in May, the 8 Hour Rogaine (Bevan and Liam) will be an important stepping stone as training for the second half of the year.
In June, the NSW based members of the Rogue team (Chirs, Michelle, Dan and Ali) will be heading to the GeoQuest 48 hour race. With a HQ location at Crescent Head only 45 minutes up the road from home, Geo represents an excellent opportunity for the team to do a rare local race.
Later in June, the other Rogue team members (Leo and Liam) will take on the 12 Hour Rogaine as part of larger training weekend as final preparations for one of the year's major goals.
In July, the team takes on one of its other major targets for the year – the XPD World Series Qualifier expedition race (Dan, Ali, Leo and Liam). I've been itching to do another expedition race since I last competed in a long event at GODZone Fiordlands in 2018. Orgainising the Raid100 in 2019 and then Covid in 2020 foiled any chances of this, so it's certainly time to get back into another expedition race. With the uncertainty of international travel, we're lucky to have an expedition option on the east coast of Australia next year.
After XPD in July, the team have left the calendar open for a while to allow sufficient recovery and down time.  There are a number of fantastic races on offer in August and September though including the Hells Bells 24 hour race, the Mojo Raid 12 hour race and the X-Marathon 36 hour race which makes up the third race in the Adventure 1 national series.  Fingers crossed a Rogue team will feature at least at some of these events.
In October, the team will wrap the year up with a big month.  We'll return to the Wildside 36 hour race (Dan, Ali, Liam and +1) to defend our win from the previous two editions. Missing Wildside this year was the biggest disappointment of all the race cancellations in 2020 for me personally, so I'm excited to go back to race what will be the final event in the Adventure 1 national series and see who will be crowned the Australian Adventure Racing Champions in 2021.
Later that month, the team will also take up their qualifying entry for the Oceania Championship 36 hour race (Chris, Michelle, Liam and Leo). As a new race based just down on the Gold Coast, it will be interesting to see where this course takes us as it is an area not commonly explore by adventure races but does have great potential.
Written like that, it's going to be a massive come back to racing next year. As they say, "the best laid plans of mice and men often go awry". If adventure racing hasn't taught us anything, than 2020 certainly drilled it home that anything can and does happen. However, I'm cautiously optimistic that we will see a modicum of normalcy in a return to racing next year. With a fantastic national series to aim for, another Rogue Raid course to plan, a big expedition race goal and plenty of great rogaining and sprint race options, there is certainly plenty of motivation to get out there training again. But what keeps me coming back to these events is the team mates and friendships formed out on the trails and around HQ which I'm looking most forward to renewing in 2021. Bring it all on.
Liam